Review by Séamas O'Reilly
Upon arrival in Pula, the heat struck instantly, having come from London at its most overcast and sodden. Fanning himself with a newspaper, my taxi driver quickly asserted himself as a font of useful knowledge, background information and local history. His name was Roman and he wanted me to know he was excited about Dimensions. He even sought to make me comfortable by turning the radio to a channel playing what sounded like the Level Select music for Alan Shearer Tennis '94. He gets it, I thought to myself. Smiling, he pursed his lips and squinted his eyes as if to say "this, compadre… is the *real* shit". I contorted my face so as to project the appropriate register of delight and in that moment he was satisfied that we were brothers in techno.
Though relatively remote from the world's gaze, Roman was eager to point out that Pula has, in the last few decades, become a beacon of sorts to subcultures far and wide; festivals come into town for all manner of genres and lifestyles, from folk and house and punk and reggae to – more specific to Roman's interest – their large, dedicated pool of biker gangs, one of which can claim Roman among their number.
If, like rastas and rave-loving bikers, the town had truly taken Dimensions to its heart, the best place to gauge this would be at the opening concert, held in the truly breathtaking Pula Arena, a stunning 2,000 year old amphiteatre far from the festival site in the town centre. One look at the venue raised expectations for all present, but the crowd had those hopes met with a blissful trip through Nils Frahm's hypnotic, tonal repertoire, a rousing, leg-shaking set from the irrepressible Roy Ayers and a staggering tour-de-grace from Dark Side, which the Nicolas Jaar-fronted group confirmed would be among their last performances together. Caribou's set was also predictably brilliant on the night, although lightly marred by a few sound issues early on.
The opener's early audio tremors aside, Dimensions itself proved a thoroughly tight ship. Even the set up on the beach's daytime roster offered a full-strength system blaring out an upbeat blend of disco, house and live work from the likes of Kwabs, Tall Black Guy, Conor L & Joma, The Internet and Trus'Me.
The beach itself was a real delight. Since the main music stages kicked off at around 10pm each night (closing up at 6am), the festival was finely calibrated to the nocturnal rhythms of its more hardened revelers. As a result, if you managed to avoid going completely mad the night before, you'd be pleasantly surprised at how much space you had at the site's idyllic sun spots during daylight hours. The small cohort of the festival's 6,000 attendees who did make their way to the beach generally sashayed their lithe, sun-kissed frames from around midday onwards and, though pleasant and charming to a fault, their perfect, hard bodies left even this svelte reporter feeling about as toned, tanned and buff as a surgical stocking filled with dog food.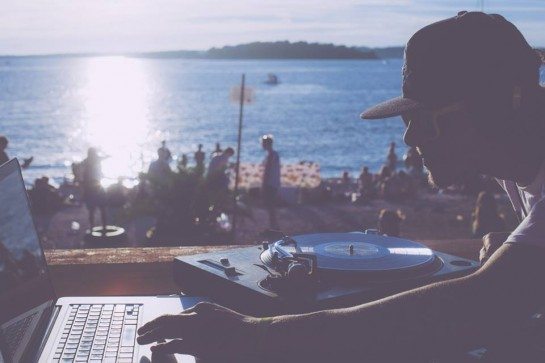 There were of course distractions *other* than the fear of dying fat and alone that dragged people from their beach towels. Every day, half a dozen boat parties catered to every conceivable demographic with a positively greedy roster of artists. Competition for tickets was fierce but standouts included Hyperdub's early sailing on Thursday, which featured Kode9, Scratch DVA and Cooly G as well as the gnarling, energetic frenzy of the Exit Records' party, which featured drum and bass cuts from Alix Perez, Skeptical and the immeasurable dBridge. Meanwhile the massively over-subscribed Eglo skiff proffered the equally heavyweight attractions of Daphni, Floating Points, Alex Nutt alongside the irrepressible, Fatima. For her part the Eglo diva had wowed the crowds the night before in The Clearing where she attacked her live show with all the cock-sure, bulletproof swagger of Erykah Badu phoning up to contest a very high gas bill.
In the same vein, there were a smattering of other, less explicitly dance-oriented, acts in attendance, with the aforementioned Roy Ayers proving the most high-profile on the roster. Odd Future soul combo The Internet turned some heads for their loungey, beachside set, while Omar put in a good shift readying the Clearing stage for Moodymann on Friday. The peerless, breezy class of Jessy Lanza continued to win over fans to her seductive mélange of chopped n' screwed R&B and there was a solid, if incongruous, turn from LA rockers Warpaint, who acquitted themselves with great aplomb despite being the only indie-rock act at the entire festival – a mysterious island of ripped denim amid a sea of pressed khaki shorts.
Moodymann's set itself was a perfect distillation of his distinct appeal, with a classic dose of house and funk classics as well as his by now trademark enthusiasm for impromptu bouts of public speaking. The crowd were suitably entertained when he extemporized on his broad musical diet by comparing it to his varied and unpredictable tastes in the bedroom. Previous to that we'd seen Space Dimension Controller whip the crowd into a frenzy with an excellent selection of synth-pop classics that might have been this reporter's favourite set of the entire weekend.
With a slight change to his billing, Theo Parrish arrived without his band due to an ill vocalist that unfortunately put the kybosh on live plans. The crowd needn't have worried, however, as he duly served up a rollicking set of fader-hectic house and techno that wanted for no greater garnish nor accompaniment. Elsewhere, Jon Hopkins had his set time amended which wrong-footed several festivalgoers, but those who made it were treated to a stonking run through of his inimitable, lavishly cut slices of boffin-house. On stage, he cut such a pleasingly nerdy figure that one hopes a quick peek inside his leather satchel would reveal some cod liver oil tablets, a chemistry set and a slim volume of difficult modern verse. All present agreed that we'd done well to see him at all, since it's been rumored that his mum banned him from doing any more festivals because those boys from Disclosure keep stealing his pogs and breaking his glasses.
Sunday night began with rolling black clouds ranging in upon the site from 10pm. There followed a spectacular light show, as pretty, bruise-coloured hues swirled around the ominous cloudbanks in truly surreal purples, greens and blues. Sporadic, and then constant lightning soon generated even more melodrama before the heavens inevitably opened with a force that was positively sarcastic.
Spiteful torrents of rain were soon battering everything for miles, and dusty trails from beach to fort melted into treacherous mud slides. The rain fell heavy enough to splash muck and small rocks upwards at waist height while, all around, great stabs of lightning continued to flash through the deluge. In a telling indictment of our collective scientific literacy, this broiling electrical storm sent most of us hurtling for shelter under the nearest tall, metal structures we could find. Where was the analytical mind of Jon Hopkins when you needed it? On a hill, carrying out experiments with his homemade turbines one expects.
The abject weather conditions soon began to take a severe toll on the event itself and the whole site shut down for safety. Sadly, the Fort Arena I and Clearing stages remained closed for the rest of the event, and a lot of chopping and changing of rosters to compensate ensued. This was a shame as it denied us a few of the more anticipated live acts of the night, as Aux 88, Underground Resistance, Metro Area and Karenn all had their full hardware sets shelved by fears of the inclement weather.
Intractable, sludge-strewn distances rendered me incapable of catching up with Floating Points or Motor City Drum Ensemble at the Void stage, so I settled in for the storm at the Moat stage. Seeing as moats are structures specifically designed *solely* to collect, retain and carry water, we shouldn't have been too surprised that this function was performed beautifully and we were duly drenched beyond all rescue. This merely emboldened us to abandon any and all pretensions of comfort and just bed in for the rest of the night. We saw out the festival in the company of first Anthony Naples and then Nina Kraviz, who delivered a set that started brooding and lively, before then dividing the audience clean 50/50 in its latter section. The evening was capped off by Techno's top typographical tough guy Ø [Phase] who won the soggy hearts and minds of the crowd with the festival's bristling, razor sharp swan-song, now claimed by many as the highlight of the 4 days.
Mud-caked and bedraggled, Dimensions' hordes stumbled out of the swampy depths some hours later to find an uneasy, mottled-grey sunrise, and a northerly chill that seemed to reflect the cooling off of a hot weekend. We that stayed on for another day or two found that the weather never returned to the highs we'd experienced when we first arrived. When I was eventually driven back to the airport, it was not by Roman, but the taciturn old lady from whom I had rented my apartment; four feet tall, stern and with hair like wire wool, she didn't like techno or even belong to a biker gang. The radio played Croatian news. I longed for the optimism of a week earlier but the festival had come and gone. Only the hangover remained.
SaveSave